Zorki 2 (Зоркий-2) is a 35mm film rangefinder camera manufactured by KMZ and produced between 1954-56 with quantity 10310 units.
The camera is based on last version of the Zorki 1 body. Identical to the Zorki type 11b, [1] with Zorki 2 stamped in the top plate plus a few improvements: Kiev-type selftimer on the front of the body; new shutter speed knob, larger with an index on the centra shaft; the shutter release button no longer turns when the shutter is being tensioned; the collar becomes the rewind clutch selector, replacing the lever; strap lugs.
There are 3 types and one sub-type of the Zorki 2. [2]
Some features
Edit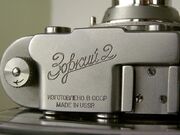 Shutter: focal plane double cloth curtain shutter, horizontally moving
Speeds: 1/20-1/500 +Z (B)
Lens: Industar-22 50mm f/3.5 (standard lens)
Notes and references
Edit