Ad blocker interference detected!
Wikia is a free-to-use site that makes money from advertising. We have a modified experience for viewers using ad blockers

Wikia is not accessible if you've made further modifications. Remove the custom ad blocker rule(s) and the page will load as expected.
Zorki 11 type 3b (export type) 1966 image by Süleyman Demir (Image rights)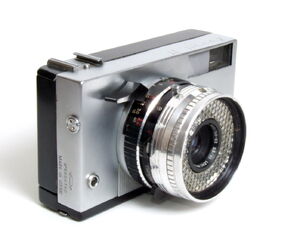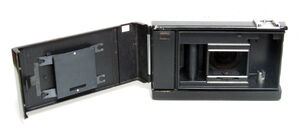 Zorki 11 is a 35mm film fully automatic viewfinder camera made by KMZ and poduced between 1964-67 with quantity of 60.745 units. Zorki means Sharp Sight.
Zorki 11 belongs to the Zorki Automat series. There are 4 types and one sub-type of the camera. [1]
The Zorki 11 is a Zorki 10 without the coupled rangefinder mechanism, but with distance symbols visible in the viewfinder. It resembles closely to Ricoh Auto 35V/Ricohmatic 35.
Specifications
Edit
Engraving on the top plate: Zorki 11
Lens: Industar-63 45mm f/2.8 filter thread 52mm

Aperture: up to f/22 setting: Automatic, manual is possible, scale and lever on the lens
Focus range: 1.5-10m +inf

Focusing: manual helicoid; ring, distance scale with symbols and DOF scale on the lens-shutter barrel, w/ handles for easy using
Shutter: Between the lens diaphragm, with adder-mechanism automatically sets diaphragm and exposure time depending on the set film sensitivity and brightness of the object to be photographed; automatic setting lever should always be set against the index A, on the lens, except B mode

Speeds: in automatic mode 1/30 -1/500, in manual mode 1/30, and B
Setting: automatic; B sets with a lever on the lens-shutter barrel

Shutter release: press as far as it goes, on the lens-shutter barrel,
Cocking lever: also winds the film, short stroke, on the bottom pate
Frame counter: auto-reset, additive type, on the bottom plate
Viewfinder: bright frame finder, parallax correction frames
Exposure meter: Selenium cell, auto exposure, around the lens

Exposure setting: fully automatic
Film speed range: 20-320 ASA; setting: ring and small window on the lens
Metering range: 8-18 EV

Re-wind knob: erects via turning the thumb wheel on it, on the bottom plate
Re-wind release: by a knob on the bottom plate
Flash PC socket: on front of the camera, set to X V lever to X on the lens-shutter barrel
Cold-shoe
Self-timer: via X V lever on the lens, set to V after cocking
Back cover: hinged, opens by a latch on the left of the bottom plate
Engraving on the left side: Made in USSR , KMZ logo and serieal no.
Tripod socket: 3/8", (there are cameras with ¼" tripod socket also )
Strap lugs: none
Body: metal; Weight: 659g
Serial no. First two digits show the manufacturing year
N0tes and references
Edit
↑ Typing and some info are as to Alexander Komarov in Fotoua