Zenit E, with 58mm f2 Helios lens
Zenit-E is a 35mm film SLR made by KMZ and produced between 1965-86 with quantity of 3.334.540 units. Зенит = Zenit means Zenith, a point in the sky that appears directly above the observer.
The main differences from Zenit 3M is added light meter, mechanism of mirror and cocking lever were changed. The Zenit E does not have aperture automation, and therefore must be used with manual diaphragm/preset lenses or auto diaphragm lenses with an auto/manual switch.
There are many types during its production period. [1]
The Zenit range was quite popular since it was priced moderately and it was offered under several other trademarks or brands as Kalimar, Revueflex, Prinzflex, Photokina, Spiraflex, Cosmorex.
Specifications
Edit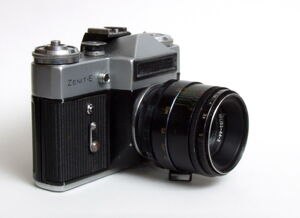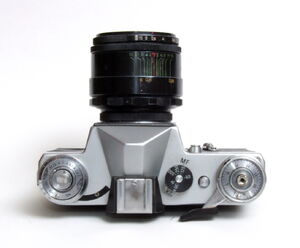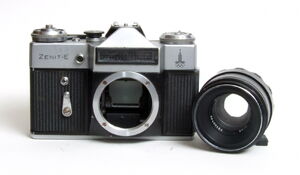 Some features of Prinzflex 500E
Edit
as Prinzflex 500E
as Revueflex E
Notes and references
Edit
↑ Typing is as to Alexander Komarov
Ad blocker interference detected!
Wikia is a free-to-use site that makes money from advertising. We have a modified experience for viewers using ad blockers

Wikia is not accessible if you've made further modifications. Remove the custom ad blocker rule(s) and the page will load as expected.