Ad blocker interference detected!
Wikia is a free-to-use site that makes money from advertising. We have a modified experience for viewers using ad blockers

Wikia is not accessible if you've made further modifications. Remove the custom ad blocker rule(s) and the page will load as expected.
Zenit-B, type 6b export model, (1971) image by Süleyman Demir (Image rights)
The Zenit-B (ЗЕНИТ-B, B = V in Latin] was one of a long series of M42 screw mount Zenit cameras from KMZ. Zenit means Zenith, a point in the sky that appears directly above the observer.
The Zenit-B was a purely mechanical 35mm SLR similar to the Zenit E but without the light meter. Like the E, it had no automatic diaphragm; the lens had to be stopped down manually after focusing. There were also no focusing aids apart from the plain ground-glass screen.
Mostly available in a chrome-topped design, there were also some all-black models. As with the Zenit E, a small number of B cameras were made in M39 screw mount.
All Zenit-B produced between 1968-73 with quantity of 889.617 units. There are 15 types of the camera. [1]
It could be found under export names: Revueflex-B, Kalimar SR100, Phokina, Prinzflex 500, Meprozenit-Pro, Cambron-B, Global.
Specifications
Edit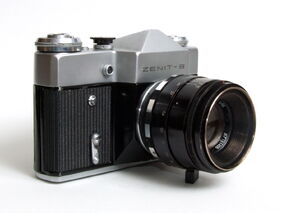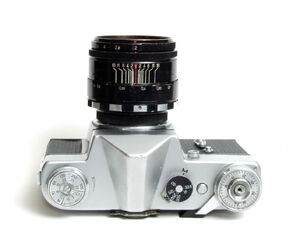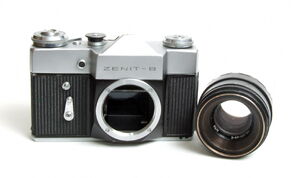 Lens: Helios-44-2 58mm f/2.8, M42 screw mount, filter thread: 44mm

This lens is standard one and others are Helios-44 2/58mm and Industar-50-2 3.5/50mm
Lens release: simply turn to anti-clockwise
Aperture: up to f/16
Focus range: 0.5-20m +inf

Focusing: Fresnel matte glass screen; ring, distance scale and DOF scale on the lens
Shutter: Horizontally traveling, cloth focal-plane shutter, speeds 1/30-1/500 +B
Shutter release: on the winding knob, w/cable release socket
Cocking lever: also winds the film, long stroke
Frame counter: on the winding knob, additive type, manual reset
Viewfinder: SLR pentaprism
Re-wind knob: on the top-plate
Re-wind release:
Flash PC socket: on foront of the camera, X sync 1/30
Cold-shoe
Memory dial : on the re-wind knob
Self-timer
Back cover: hinged, opens by a latch on the left side of the camera
Engraving on the bottom plate: KMZ logo and Made in USSR
Tripod socket: ¼", Off-centre
Strap lugs: only on type 9
Body: metal; Weight: 887g (with standard lens)
Serial no. first two digits show the production year, on the back of the top plate
Zenit-B (Зенит-B ) type 4 (1970) w/ Industar-50-2 3,5/50mm image by Siim Vahur (Image rights)
Notes and references
Edit
↑ Typing is as to Alexander Komarov