Ad blocker interference detected!
Wikia is a free-to-use site that makes money from advertising. We have a modified experience for viewers using ad blockers

Wikia is not accessible if you've made further modifications. Remove the custom ad blocker rule(s) and the page will load as expected.

Contina is a 35mm film viewfinder camera made by Zeiss Ikon and produced between 1962-65. Zeiss Catalog no. is 10.0626. [1]
See also the article Zeiss Ikon Contina series.
Specifications
Edit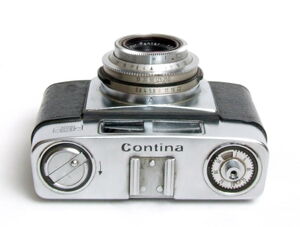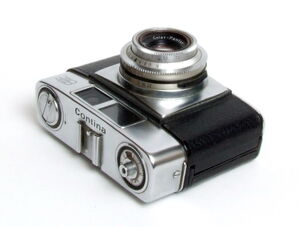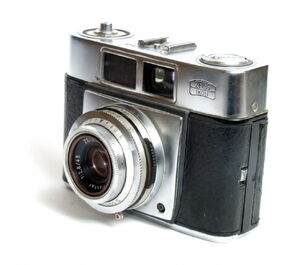 Engraving on the top plate: Contina
Lens: Zeiss Ikon Color-Pantar 45mm f/2.8, filter slip-on, serial no.none

Aperture: up to f/22 setting: ring and scale on the lens-shutter barrel, w/ handles
Focus range: 3.5-10 feet +inf

Focusing: manual front cell focusing; ring, distance scale and DOF scale on front of the lens
Shutter: Prontor 250 S, speeds: 1/30-1/250 +B; setting: ring and scale on the lens-shutter barrel
Shutter release: on the right of the top plate w/ cable release socket
Cocking lever: also winds the film, short stroke, on the back of the camera
Frame counter: dial beneath the shutter release, not works wo/ the film in the camera
Viewfinder: bright frame, with parallax correction lines
Re-wind lever: folding crank, on the left of the top plate
Re-wind release: button on the bottom plate
Flash PC socket: on the front plate
Cold-shoe
Self-timer: lever, on the lens-shutter barrel
Back cover: hinged, opens by a latch on the left side of the camera
Embossing on back cover: Zeiss Ikon logo
Tripod socket: ¼"
Strap lugs : none
Body: metal; Weight: 450g
Serial no.on the back cover
Notes and references
Edit