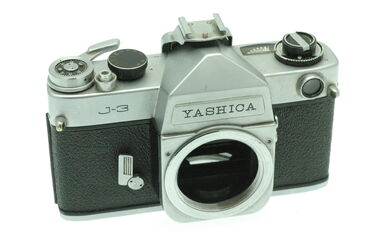 The Yashica Penta J3 is a SLR with interchangeable M42 screw mount lenses.
The Yashica J3 was offered with a 50mm F/2 Auto Yashinon lens that had a M42 screw thread. The camera has an internal exposure meter that couples to the shutter speed dial but not the aperture so only had closed aperture metering.
Ad blocker interference detected!
Wikia is a free-to-use site that makes money from advertising. We have a modified experience for viewers using ad blockers

Wikia is not accessible if you've made further modifications. Remove the custom ad blocker rule(s) and the page will load as expected.