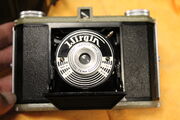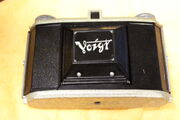 A 6x9 folding, 120 format camera produced in 1946 by the
Vokar
Corporation
[1]
. The camera has a plastic body with metal top and bottom plates decorated with Art Deco motfs. Film advance and rewind knobs are on the top plate. Lugs for carry straps are absent, but a single ring is provided on the completely removable back. A number of lens variations are known:
a 75mm f4.5 fixed focus Meniscus lens in a simple Instant and Bulb shutter.
a 75mm f4.5 lens in a US-made shutter (not identified as yet)

The camera is built-identical with the Voigt Junior and was also sold in Germany badged as by Wirgin in Wiesbaden. It is one of the very few US-made but German-badged cameras.[2]

</center>
Notes and References
Edit
Ad blocker interference detected!
Wikia is a free-to-use site that makes money from advertising. We have a modified experience for viewers using ad blockers

Wikia is not accessible if you've made further modifications. Remove the custom ad blocker rule(s) and the page will load as expected.