Weltax is a medium format film folding camera made by Welta and introduced in 1938. Its production resumed in 1947. [1]
Around 1956, some Weltax cameras production was made by VEB Rheinmetall, engraved with their name on the bottom.
Specifications
Edit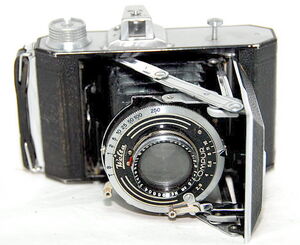 Film: 120 roll film, picture size 6x6cm and 6x4.5cm with a mask
Bellows is self erecting
Winding knob: on the bottom of the camera or on the top plate [2]
Lens and shutter: There are many lens/shutter combinations
Viewfinder: Galilean viewfinder
Lever beside the finder: to release the finder for viewing near image subjects
Lever on top of the finder: to adjust the frame in the viewfinder for 4.5x6cm frames
Flash sync socket
Body: metal
Weltax post-WW2 model image by Raúl Sá Dantas  (Image rights)
Notes and references
Edit
↑

on the post-WW2 models the winding knob always on the top plate

↑

Focal lenght marked as centimeter, a feature of pre-WW2 lenses
In English:
In Spanish:
In French:
In Portuguese:
In German:
Ad blocker interference detected!
Wikia is a free-to-use site that makes money from advertising. We have a modified experience for viewers using ad blockers

Wikia is not accessible if you've made further modifications. Remove the custom ad blocker rule(s) and the page will load as expected.