Welmy Six and Mount Six
Talk

0
5,887pages on
this wiki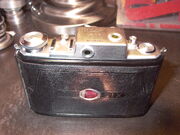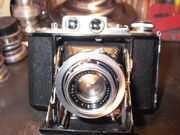 The Welmy Six are viewfinder-only 6×6cm folding cameras made by Taisei Kōki. The Mount Six is a name variant of the Welmy Six E, and the Mount Six III is a version with an uncoupled rangefinder.
Welmy Six E 6x6 No.21319- Serviced & Cleaned & Owned by Eastwestphoto
Unique Green tinted viewfinders, optical  front and optical top down upside down clear and bright.Drop down Horizontal bed with a Single red window  with slide cover.Welmy Terionar75mm F:3.5 no.40550 in meters & Light Blue Coating(early). Unmarked B, 1~200th shutter in Black enameled letters. Welmy stamped Three section struts.Raised high chrome film wind Knob of quality.
images of a Welmy 6 with 1:4.5 F=75mm Welmy Terionar lens in Welmy shutter
Bibliography
Edit
Asahi Camera (アサヒカメラ) editorial staff. Shōwa 10–40nen kōkoku ni miru kokusan kamera no rekishi (昭和10–40年広告にみる国産カメラの歴史, Japanese camera history as seen in advertisements, 1935–1965). Tokyo: Asahi Shinbunsha, 1994. ISBN 4-02-330312-7. Items 395–7 and 845.
Lewis, Gordon, ed. The History of the Japanese Camera. Rochester, N.Y.: George Eastman House, International Museum of Photography & Film, 1991. ISBN 0-935398-17-1 (paper), ISBN 0-935398-16-3 (hard). P.83.
McKeown, James M. and Joan C. McKeown's Price Guide to Antique and Classic Cameras, 12th Edition, 2005-2006. USA, Centennial Photo Service, 2004. ISBN 0-931838-40-1 (hardcover). ISBN 0-931838-41-X (softcover). Pp.910–1.
Omoide no supuringu-kamera-ten (思い出のスプリングカメラ展, Exhibition of beloved self-erecting cameras). Tokyo: JCII Camera Museum, 1992. (Exhibition catalogue, no ISBN number.) P.27.
Sugiyama, Kōichi (杉山浩一); Naoi, Hiroaki (直井浩明); Bullock, John R. The Collector's Guide to Japanese Cameras. 国産カメラ図鑑 (Kokusan kamera zukan). Tokyo: Asahi Sonorama, 1985. ISBN 4-257-03187-5. Items 1366 and 1433–7.
In English:
In Japanese:
In French: