Ad blocker interference detected!
Wikia is a free-to-use site that makes money from advertising. We have a modified experience for viewers using ad blockers

Wikia is not accessible if you've made further modifications. Remove the custom ad blocker rule(s) and the page will load as expected.
Felica is a medium format film viewfinder like box camera made by Vredeborch GmbH, Nordenham, Germany and introduced in c.1957.[1]
Felica is a rare camera. It was offered with grey covering also. It is similar as Vredeborch Felita but with plastic body.
For other distributors, cameras were made under different names as Klimax, Reporter Junior II.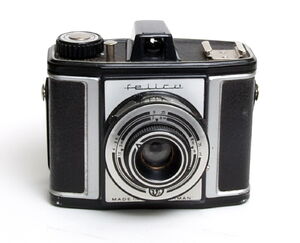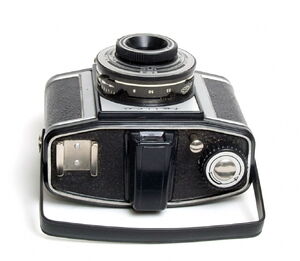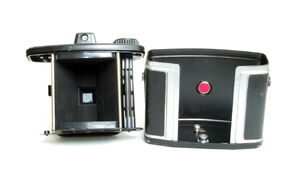 Specifications
Edit
Film: 120 roll, picture size 6x6cm
Lens: meniscus lens 60mm f/8, filter slip-on
Built-in yellow filter, sets with a lever on the lens-shutter barrel
Aperture: two apertures, sunny (f/16) and cloudy (f/8)
Setting: lever and symbols on the lens-shutter barrel
Focus range: 1.5-8m +inf
Focusing: manual front element focusing with three settings: 1.5-3m, 3-8m and 8m-inf
Shutter: central, Guillotine type with two speeds, 1/25 and 1/50 +B; setting: lever and scale on the lens-shutter barrel
Cocking and Shutter release: by the same knob, on the top plate
Viewfinder: reverse telescopic finder
Flash PC socket: on the lens-shutter barrel
Cold-shoe
Self-timer: none
Back cover: removable with bottom and sides of the front plate, opens by a latch on the bottom plate, then slide the front plate; w/ red window
The back cover is bent to compensate for the distortion of the lens
Tripod socket: 3/8"
Hand grip
Body: plastic; Weight: 257g
Notes and references
Edit
In Sylvain Halgand's collection :