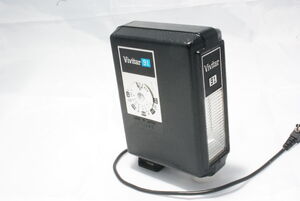 The Vivitar Model 91 electronic flash c. 1964 is a very reliable and sturdy manual flash unit made by Vivitar Corporation a subsidiary of Ponder & Best, Inc. It has a cold shoe mount and a permanently affixed PC sync cord that connects to a camera's x-sync terminal. An exposure compensation dial mounted on the side is used to quickly determine camera aperture settings based on known film speed and distance to subject. On/off switch and ready light are on the back side.
SpecificationsEdit
Kodachrome II (ASA 25): 30
Kodachrome X (ASA 80): 55
Ektachrome (ASA 160): 75

Flash duration: 1/1000 second
55° horizontal
55° vertical

Color temperature: 6000° Kelvin
Power source: Four AA alkaline batteries
Flashes per set of batteries: 400+
Section heading
Edit
Write the second section of your page here.