Ad blocker interference detected!
Wikia is a free-to-use site that makes money from advertising. We have a modified experience for viewers using ad blockers

Wikia is not accessible if you've made further modifications. Remove the custom ad blocker rule(s) and the page will load as expected.
The Vito Automatic F was produced by Voigtlander in the mid-1960's. There is vary little information available for this model and is believed to have been an alternate version of the Vito Automatic I due to the fact that it appears in a footnote of the 1964 ad for the Vito Automatic I.
---
Vito Automatic F Features:
Manufacture: Voigtlander
Country: Germany
Years Produced: 1960-1968 (estimated)
Type: Ridged Body Fixed Lens
Film Type: 35mm
Lens: Unknown
Shutter Type: Unknown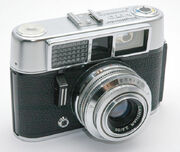 ---
The Vito Automatic R was produced by Voigtlander introduced in 1962 or 1963. It has a Lanthar f/2.8 50mm lens with a Prontor-Lux Scaleless shutter, models after
1964 feature the Prontormatic 125 shutter along with the Color-Lanthar f/2.8 50mm lens. It has a Cable Release socket and a center mounted accessory shoe. It also has a coupled rangefinder and quick-focus zone markings on the distance scale. It also features the same red / green indicator of the Vito Automatic I.
---
Vito Automatic F Features:
Manufacture: Voigtlander
Country: Germany
Years Produced: 1962 or 63 - 1968 (estimated)
Type: Ridged Body Fixed Lens
Film Type: 35mm
Lens: Lenthar f/2.8 50mm or Color-Lanthar f/2.8 50mm
Shutter Type: Prontor-Lux Scaleless or Prontormatic 125
Accessory Shoe: Center