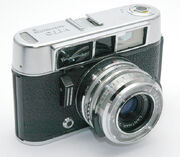 The Vito Automatic II was produced by Voigtlander and made a brief appearance in about 1963. It was fitted with a Lanthar f/2.8 50mm lens and a Prontormatic V 1/500 shutter. The automatic metering system can be set for film speeds 10 or 100 ASA. The selected aperture appears in the brightline finder and on the top plate. There is a red/green indicator in the viewfinder just like the one found in Vito Automatic's. The focusing is done by a three-symbol focusing scale system.
---
Vito Automatic II Features:
Manufacture: Voigtlander
Country: Germany
Years Produced: 1960-1968 (estimated)
Type: Ridged Body Fixed Lens
Film Type: 35mm
Lens Type: Lanthar f/2.8 50mm
Shutter Type: Prontormatic 1/500
Ad blocker interference detected!
Wikia is a free-to-use site that makes money from advertising. We have a modified experience for viewers using ad blockers

Wikia is not accessible if you've made further modifications. Remove the custom ad blocker rule(s) and the page will load as expected.