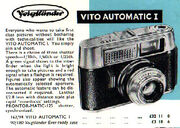 The Vito Automatic was introduced in the eairly 1960's by Voigtlander . There were four models of the Vito Automatic produced all of which had selenium meters with a fixed Lanthar f/2.8 50mm lens. It is believed that Vito Automatic line was intended for the "snapshooter" marker due to it's noninterchangeable lens, automatic exposure and zone focusing.
---
Vito Automatic Features:
Manufacture: Voigtlander
Country: Germany
Years Produced: 1960-1968 (estimated)
Type: Ridged Body Fixed Lens
Film Type: 35mm
Lens Type: Lanthar f/2.8 50mm
Shutter Type: Prontor Lux 1/30 - 1/500 Bulb
Ad blocker interference detected!
Wikia is a free-to-use site that makes money from advertising. We have a modified experience for viewers using ad blockers

Wikia is not accessible if you've made further modifications. Remove the custom ad blocker rule(s) and the page will load as expected.