Ad blocker interference detected!
Wikia is a free-to-use site that makes money from advertising. We have a modified experience for viewers using ad blockers

Wikia is not accessible if you've made further modifications. Remove the custom ad blocker rule(s) and the page will load as expected.

The Utility Mfg. Co. was founded in New York in 1934[1]. They offered several camera lines including folding cameras and box cameras. Its main camera brand was Falcon, a name particularly associated with a line of "half frame" 3×4 cm cameras for 127 film—for example, the Falcon Miniature. These were molded bakelite cameras in an eye-level style quickly became popular. In 1941 it was bought by Spartus Corp., and moved to Chicago. In 1951 its head of sales, Harold Rubin, bought the company and named it Herold Mfg. Co.. It made cameras of its own brand Spartus and under the brand or for other companies The cameras had a distinctive styling. The related companies Utility, Spartus, and Herold created a great many inexpensive camera models, sold under a dizzying array of brands, from the 1930s into the 1960s. The Chicago brand Spartus is at the center of this constellation.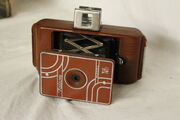 ==== Utility ====
{{Flickr_image
Falcon Junior (Folding Bakelite)
Falcon Junior 16 (Box)
Falcon Midget 16 (box)
Falcon Minette
Falcon Model Four
Falcon Special
Cinex
Spartus 116, 116/616, 120, 620, Rocket (Box cameras)
Spartus 4 (folding)
Spartus Junior Model
Spartus Super R-I
Spartus Vest Pocket (folding)
Other Herold models that did not use Spartus brand
Notes and references
Edit
↑ McKeown, James M. and Joan C. McKeown's Price Guide to Antique and Classic Cameras, 12th Edition, 2005-2006. USA, Centennial Photo Service, 2004. ISBN 0-931838-40-1 (hardcover). ISBN 0-931838-41-X (softcover). Pages 941–943