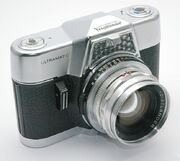 The
Voigtländer
Ultramatic was the predicecor to
Ultramatic CS
. It was produced from 1961 - 1968 in Brunswick Germany, in total 35,500 to 45,000 were made. The Ultramatic model featured a selenium cell, later models have a
CdS cell
.
Bessamatic
and Ultramatic have the same bayonet mount, but only lenses with a yellow dot on the bayonet mount allow the full automatic functionality of the Ultramatics. The Ultramatic was designed by Walter Swarofsky and Fritz, Renneberg both of whom hold several patents for technology on the Ultramatic. A factor in the Ultramatic's demise was the cost of Bassematic Lenses and the complicated and weighty Leaf Shutter.
---
Ultramatic Features
Type: Single Lens Reflex Camera (SLR)
Film Size: 135 Picture Size: 24x36mm
Lens Mount: Bessamatic
Standard Lens: Voigtlander Color-Skopar 50mm f/2.8
Shutter: Synchro-Compur Leaf Speeds: Bulb,1-500
Fully automatic aperture control.
Selenium meter
Instant-return mirror
---
SLR Lenses for Bessamatic / Ultramatic (1958-1969)
Although the optical quality of the Bessamatic Mount lenses was better then the competition at the time, the cost of the lens lead to it's and the Bessamatic / Ultramatic undoing. Bessamatic Mount lenses were also much slower and their minimum focus distance was greater then the competition.
Name:
Skoparex f/3.4 35mm
Skopagon f/2.0 40mm
Color-Skopar f/2.8 50mm
Septon f/2.0 50mm
Dynarex f/3.4 90mm
Dynarex f/4.8 109mm
Super-Dynarex f/4.0 135mm
Super-Dynarex f/4.0 200mm
Super-Dynarex f/5.6 350mm
Zoomar f/2.8 36mm - 82mm
Ad blocker interference detected!
Wikia is a free-to-use site that makes money from advertising. We have a modified experience for viewers using ad blockers

Wikia is not accessible if you've made further modifications. Remove the custom ad blocker rule(s) and the page will load as expected.