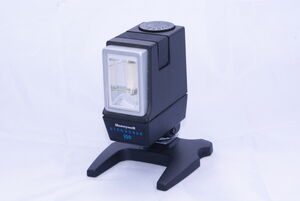 The Honeywell Strobonar 100 is a manual electronic flash. This flash will connect to the camera Hot-shoe or x-sync socket using the removable PC cord. It has a locking foot, a sliding on/off switch, a ready light and a dial on top to calculate the aperture setting based on distance and film speed.
Specifications
Edit
Guide number: 56 for ASA 100 film
Angle of coverage: 50° horizontal and vertical
Color temperature: Approximately noon daylight
Flash duration: 1/3000 sec.
Power source: Two 1.5v AA alkaline batteries
Recycling time: About 10 sec. on fresh alkaline batteries
Number of flashes: More than 100 with alkaline batteries
Dimensions: 2.5" X 1.4" X 3.5"
Weight: Less than 5 ounces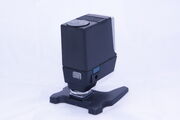 Section heading
Edit
Write the second section of your page here.
Ad blocker interference detected!
Wikia is a free-to-use site that makes money from advertising. We have a modified experience for viewers using ad blockers

Wikia is not accessible if you've made further modifications. Remove the custom ad blocker rule(s) and the page will load as expected.