There is also a Russian Start Single-Lens-Reflex camera, and the Pouva Start Bakelite camera.
Start series of TLR cameras was made by WZFO (Warszawskie Zakłady Fotooptyczne) in several versions:
START in the years 1954-1960 START II in the years 1960-1965
START B in the years 1960-1967
START 66 in the years 1967 to 1970
START 66S in the years 1970 to 1980
This was the first produced after World War II in Poland camera (The twin-lens reflex) type Rolleicord.
Specifications
film type 120 6x6
upper lens Emitar 3.5 / 75 (triplet)
main lens Emitar 3.5 / 75 (triplet)
aperture from 3.5 to 22
The central shutter: B, 1/15, 1/30, 1/60, 1/125, 1/250
X-flash socket
shift knob film with the observation counter on the back of the camera and without connection with the shutter (allow execution of multiple exposures on the same frame)
Magnifier to the focusing screen
Minimum distance: 1 meter
additional frame viewfinder
the original "Start"
the "Start-B" model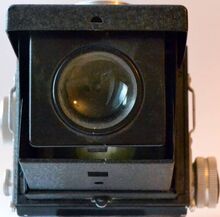 Ad blocker interference detected!
Wikia is a free-to-use site that makes money from advertising. We have a modified experience for viewers using ad blockers

Wikia is not accessible if you've made further modifications. Remove the custom ad blocker rule(s) and the page will load as expected.