Sokol-2 type 3b, (export type 1979) image by Süleyman Demir (Image rights)
Sokol 2 is a 35mm film rangefinder camera made by LOMO (Leningrad Optical-Mechanical Union = Ленинградское Oптико-Mеханическое Oбъединение, ЛОМО́), in Leningrad, former USSR. and produced between 1977-86. Сокол=Sokol means Falcon.
The only differences between Sokol-2 and Sokol-1 are the addition of a hot shoe and deletion of flash PC socket. The camera appears to operate without the battery but it does not operate correctly.
There are 4 types and 3 subtypes of the camera. [1]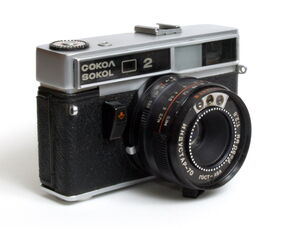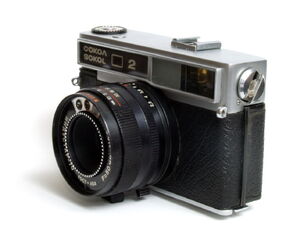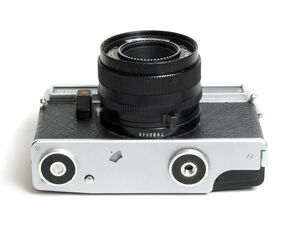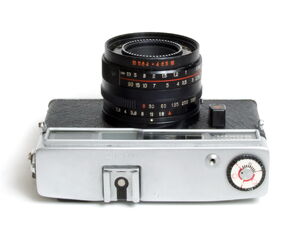 Specifications
Edit
Engraving on the top plate: made in USSR
Lens: Industar-70 (ИНДУСТАР) 50mm f/2.8 filter thread 55mm
Aperture: up to f/16
Setting:

Auto: set the aperture ring to A
Manual: press the small silver lever on the lens-shutter barrel, then turn the aperture ring with scale

Focus range: 0,8-10m +inf
Focusing: match the rangefinder images in the finder by ring on the lens-shutter barrel, w/ distance and DOF scales
Shutter: leaf shutter, speeds: 1/30 -1/500 +B ; Setting: ring and scale on the lens-shutter barrel
Shutter release: on front of the camera
Cable release socket: on the top plate
Cocking lever: also winds the film, long stroke, on the back of the camera
Frame counter: auto-reset, additive type, window on the bottom plate
Viewfinder: coupled bright frame viewfinder / rangefinder, w/ parallax correction lines
Exposure meter: three cells CdS meter, shutter priority automatic exposure controlled, meter windows on front of the lens
Film speed range: 16-250 ASA/GOST, setting: ring and window on front of the lens
Exposure setting:

Auto: set the aperture ring to A, in this mode shutter not works on inappropriate light conditions
Manual: there are 5 luminescent arrows in the finder, (you have to try combinations until the middle arrow shows ?)

Re-wind lever: on the left side of the camera
Re-wind release: on the bottom plate
Flash PC socket: none
Hot-shoe
Memory dial: on the top plate, as a cover for battery chamber
Self-timer: none
Back cover: hinged, opens by a latch on the left side of the camera
Engraving on the back of the top plate: LOMO logo
Tripod socket: ¼"
Strap lugs
Battery: one PX 625 1.5V
Battery chamber: on the top plate and opens by unscrewing the film reminder
Battery check: a small button on the back of the top plate, when depressed in Auto mode, 500/16 appears in the viewfinder thet means the battery is OK
Battery on/switch: none ??
Body: metal; Weight: 738g
Serial no. first two digits show the producing year; beneath the lens-shutter barrel
Notes and references
Edit
↑ As to Alexander Komarov
Ad blocker interference detected!
Wikia is a free-to-use site that makes money from advertising. We have a modified experience for viewers using ad blockers

Wikia is not accessible if you've made further modifications. Remove the custom ad blocker rule(s) and the page will load as expected.