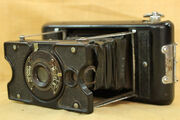 The Soho Model B is a 120 roll film camera sold by Soho Ltd. in London, c.1935. It was a strut folder with a single-speed (+T) shutter. Construction is of dark red Bakelite, with chromed metal fittings and a tortoiseshell plate around the lens. It took 8 6×9cm pictures on 120 film.
Ad blocker interference detected!
Wikia is a free-to-use site that makes money from advertising. We have a modified experience for viewers using ad blockers

Wikia is not accessible if you've made further modifications. Remove the custom ad blocker rule(s) and the page will load as expected.