Ad blocker interference detected!
Wikia is a free-to-use site that makes money from advertising. We have a modified experience for viewers using ad blockers

Wikia is not accessible if you've made further modifications. Remove the custom ad blocker rule(s) and the page will load as expected.
Smena-35 type 2a (1990) image by Paulo Moreira  (Image rights)
Smena-35 is a viewfinder 35mm film camera made by LOMO and produced between 1990-93. Smena = СменA, means Young Generation or Relay
There are 5 types and 3 sub-types of the Smena-35. [1]
The list of all Smena models is in the article Smena Series by GOMZ & MMZ & LOMO.
Smena 35 type 3a (1992-93) image by Süleyman Demir (Image rights)
Specifications
Edit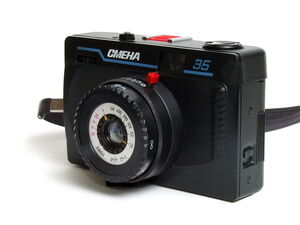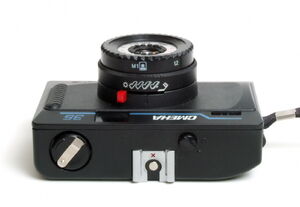 Similar with Smena-8M but has a new modern design
Engraving on the front plate: Made in USSR
Engraving on the back cover: ЛОМО
Lens: ЛОМО (LOMO) T-43 (Triplet) 40mm f/4 filter slip-on

There is an exposure guide according to ISO range on front of the lens
Aperture: up to f/16 setting: ring and scale on front of the lens
Focus range: 1-10m +inf

Focusing: manual front cell focusing, distance scale with potrrait, half-portrait, group and landscape symbols
Shutter: leaf shutter; speeds: 1/15-1/250 +B; setting : ring with speeds scale and weather symbols, on the lens-shutter barrel
Shutter release: a button on the top plate
Cocking lever: on the lens-shutter barrel
Frame counter: manual reset, additive type, window and setting ring on the back of the top plate, not works wo/ the film in the camera
Winding knob: a thumb wheel, on the back of the top plate, double exposure preventing
Viewfinder: reverse telescopic finder
Re-wind lever: folding crank, on the top plate
Re-wind release: set the shutter release button to R
Flash PC socket: none
Hot-shoe
Self-timer: none
Back cover: hinged, opens by a latch on the left side of the camera
Tripod socket: ¼"
Hand strap lug
Body: plastic; Weight: 190g
Serial no.first two numbers show the producing year, under the back cover
Notes and references
Edit