Ad blocker interference detected!
Wikia is a free-to-use site that makes money from advertising. We have a modified experience for viewers using ad blockers

Wikia is not accessible if you've made further modifications. Remove the custom ad blocker rule(s) and the page will load as expected.
Smena-2 GOMZ type 4 (produced from 1955) image by Süleyman Demir (Image rights)
Smena-2 is a 35mm film viewfinder camera produced between 1954-61 by GOMZ and 1957-61 by MMZ with quantity of 1.580.000 units. Smena = Смена, means Young Generation.
Main differences from Smena-1 are added synchronizer and self-timer.
These cameras were designed to be inexpensive and accessible to the public. It is a very simple viewfinder camera made of bakelite. It has a removable back and uses cassette to cassette film transport. All controls are on the lens/shutter barrel.
There are 4 types with one sub-types of the GOMZ Smena-2, and 3 types with 2 sub-types of the MMZ Smena-2. [1] [2] [3] [4]
The list of all Smena models is in the article Smena Series by GOMZ & MMZ & LOMO.
Smena-2, MMZ type 2a (1959-61), w/MMZ logo on lens and the rear door

image by indrek indrek  (Image rights)
Specifications
Edit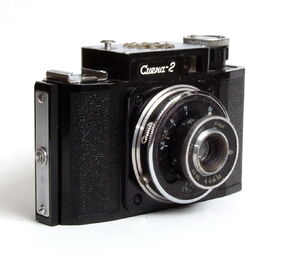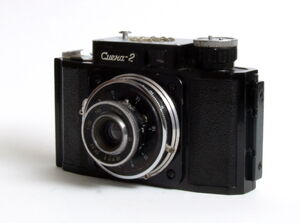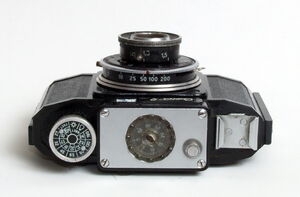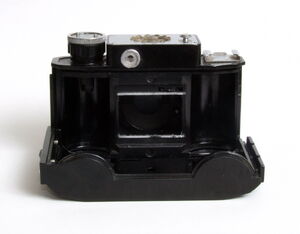 Engraving on the right side of the camera: СДЕЛАНО В СССР ( = Sdelano v SSSR = Made in USSR)

Embossing on the back cover: GOMZ logo that means made by GOMZ
MMZ made cameras have the MMZ logo on the lens

Lens: GOMZ T-22 (Triplet) 40mm f/4.5 filter slip-on, serial no. none

Aperture: up to f/22, setting: ring and scale on front of the lens
Focus range: 1.3-10m +inf

Focusing: manual front focusing, guess the distance, ring and scale on the lens
Shutter: central leaf shutter, speeds: 1/10-1/200 +B; setting: ring and scale on the lens-shutter barrel
Shutter release: on the top-plate
Cocking lever: on the lens-shutter barrel
Frame counter: manual reset, on the top-plate, not works wo/ the film in the camera
Winding knob: on the top-plate
Viewfinder: reverse telescopic finder
Re-wind lever: none, two cassettes must use always
Flash PC socket: old type, on the lens-shutter barrel
Cold-shoe
Memory dial : on the winding knob
Self-timer: lever on the lens-shutter barrel
Back cover: removable, opens by a latch on the left side of the camera
Tripod socket: 3/8"
Strap lugs: none
Body: bakelite; Weight: 273g
Serial no. on the right side of the camera
Notes and references
Edit