Ad blocker interference detected!
Wikia is a free-to-use site that makes money from advertising. We have a modified experience for viewers using ad blockers

Wikia is not accessible if you've made further modifications. Remove the custom ad blocker rule(s) and the page will load as expected.
Shkolnik type 2b c.1965 image by Süleyman Demir (Image rights)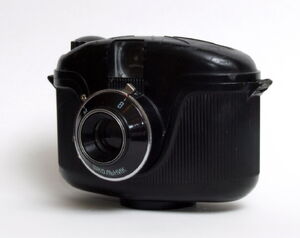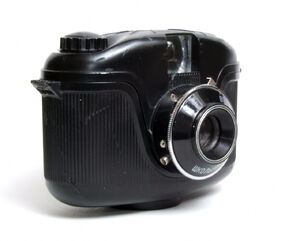 The Shkolnik (=Школник means Student) is a medium format film viewfinder like box camera made by MMZ (Minsk Mechanical Factory), Minsk, former USSR, and produced betweeen 1962-69 with quantity about 500.000 units.
Shkolnik was not made by BeLomo because its end of producing was 1969, before the MMZ's name changed as BeLOMO. It is rare in the flea market.
There are 3 types and 2 sub-types of the camera [1]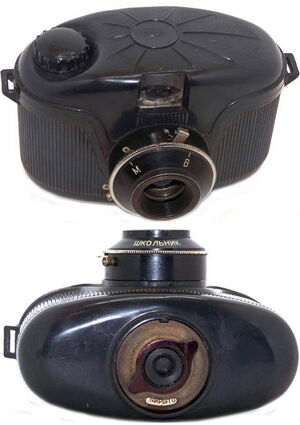 Specifications
Edit
Data belongs to the Shkolnik type 2b
Film 120 roll, picture size 6x6cm
Engraving on the top plate: MMZ logo
Lens: two elements, 75mm f/8, glass, filter slip-on
Aperture: a rotary round holes system, f/8, f/11, f/16; setting: lever and scale on the lens-shutter barrel,
Focusing: fixed focus, 3.5m to inf
Shutter: one speed leaf shutter 1/30, M (instant) and B; setting ring on the lens-shutter barrel
Shutter release: on the lens-shutter barrel
Cable release socket: on the lens-shutter barrel
Cocking lever: on the lens-shutter barrel
Viewfinder: reverse telescopic finder, plastic
Winding knob: on top of the camera:
Flash PC socket: none
Back cover: removable with both sides and bottom plate, opens by a lever on the bottom plate, w/red window
Engraving in the camera: СДЕЛАНО В СССР ( SDELANO V SSSR = Made in USSR)
Tripod socket: 3/8"
Strap lugs
Body: plastic; Weight: 240g
Serial no. none
Notes and references
Edit