Riley Research Co. of Santa Monica, California.
Manufacturer of "Rilex" 2 1/4" x 3 1/4" aluminium, non-folding press film cameras in the late 1940's. Known models are called A, AB & B.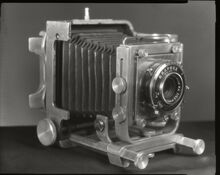 http://giovannisavinophotography.com/blog/2015/01/the-rilex-a-little-story-about-a-tiny-american-camera/
Ad blocker interference detected!
Wikia is a free-to-use site that makes money from advertising. We have a modified experience for viewers using ad blockers

Wikia is not accessible if you've made further modifications. Remove the custom ad blocker rule(s) and the page will load as expected.