Ad blocker interference detected!
Wikia is a free-to-use site that makes money from advertising. We have a modified experience for viewers using ad blockers

Wikia is not accessible if you've made further modifications. Remove the custom ad blocker rule(s) and the page will load as expected.
Ricoh GR1 is a high end 35mm film autofocus compact camera introduced in 1996 by Ricoh. It received the 1997 TIPA award for best 35mm Compact Camera. The appearance is similar to that of Ricoh R1 which was more a low/mid range compact camera, the GR1 was aimed at the higher end of the consumer market. The GR1 saw many revisions, GR1 Date, GR1s, GR1v, GR21 and were only available in a silver or black finish. The GR1 evolved into the digital age with the introduction of the GR Digital in 2005, which shared a very similar design.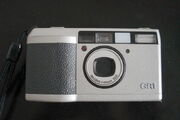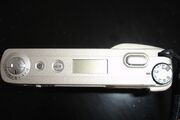 Models:
Later models: Ricoh GR1s, Ricoh GR1v, Ricoh GR21
Specifications
Edit
Lens: GR Lens 28mm f/2.8 (7 elements, 4 groups)
Focusing: Autofocus multi-subject
Shutter Speeds: Electronic shutter - 2 to 1/500 second.
Exposure Control: Aperture Priority Mode
Film Speeds: ISO25 to ISO3200 (DX)
Batteries: 1xCR-2
Size: 117mm x 61mm x 26,5mm (Grip: 34mm)
Weight: 175gr