Revueflex 1000S it was actually the Japanese version of Chinon CS (produced since 1976). This is a typical SLR pentaprism and with a built-in CDs light meter.
The design is similar to Praktica, but the body is slightly thicker and the shutter button is placed differently . Revueflex 1000S is rare.
Specifications:
SLR - the beginning of manufacturing 1978
film type 135, 36 frames 24x36mm
Lens mount M42x1
Focal plane vertical shutter with metal curtains, settings 1/1000s to 1s and B
flash X and M
CdS (behind the lens) film speed adjustable from 25AS to 3200ASA (15 to 36 DIN)
battery type PX13/PX625 - 1.35 V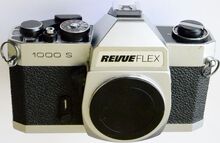 Ad blocker interference detected!
Wikia is a free-to-use site that makes money from advertising. We have a modified experience for viewers using ad blockers

Wikia is not accessible if you've made further modifications. Remove the custom ad blocker rule(s) and the page will load as expected.