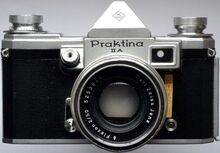 Praktina II A is a professional SLR latch produced in 1958-1960. In total 24 848 pieces were produced by Mechanik Kamera Werkstätten VEB Niedersedlitz. It is a single-lens reflex with prism. Rich, for those times equipment: self-timer, for flash synchronization, an additional riflescope.
Construction of the horizontal slit plane shutter is different from shutters mounted in Praktica cameras, and it has a wider range of times.
Shutter speeds B, 1/1, 1/2, 1/5, 1/10, 1/25, 1/50, 1/100, 1/200, 1/500, 1/1000.
Ad blocker interference detected!
Wikia is a free-to-use site that makes money from advertising. We have a modified experience for viewers using ad blockers

Wikia is not accessible if you've made further modifications. Remove the custom ad blocker rule(s) and the page will load as expected.