This is a unique series of Prakticy L. Sells was not a lens, with the converter to the endoscopic camera. The camera was manufactured by Kombinat VEB Pentacon Dresden in 1969-75, the number produced is unknown, as well as the precise date of manufacture.
Production period was adopted as a model of L. The scale of production is the fact that cameras are not marked by engraving, and only a label.
Like the Model L is a 35mm SLR (Single Lens Reflex) with prism. Focal plane shutter, metal, vertical motion. Shutter speeds B, 1 / 1, 1 / 2, 1 / 5, 1 / 10, 1 / 25, 1 / 50, 1 / 100, 1 / 200, 1 / 500, 1 / 1000. Synchronizing to the flash for 1/125s.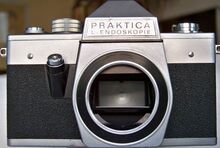 Ad blocker interference detected!
Wikia is a free-to-use site that makes money from advertising. We have a modified experience for viewers using ad blockers

Wikia is not accessible if you've made further modifications. Remove the custom ad blocker rule(s) and the page will load as expected.