Praktica started as the name of a model of 35mm SLR from KW, introduced in 1949 and successor to the Praktiflex.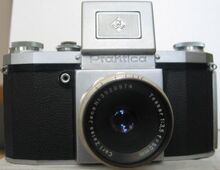 It became a long-lasting series of SLRs produced by KW and then by Pentacon. The last Praktica produced was the BX20s, discontinued in 2001.
For a list of the Praktica models, see Pentacon.
| | |
| --- | --- |
| | |
| Ilafot shop in Dresden 1984 | Dresden, Prague Street, in 1991 (images by stilo95hp) |
Ad blocker interference detected!
Wikia is a free-to-use site that makes money from advertising. We have a modified experience for viewers using ad blockers

Wikia is not accessible if you've made further modifications. Remove the custom ad blocker rule(s) and the page will load as expected.