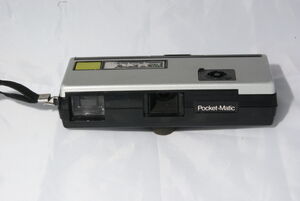 Made in the U.S.A. by Berkey Keystone, This 110 film camera has a built-in lens/viewfinder cover, uses "Magicube" flash bulbs so no batteries are needed.
Specifications
Edit
Film: Uses 110 film cartridge not to exceed ASA 125
Built-in lens cover: Sliding cover protects lens and viewfinder.
Lens: Color corrected lens.
Focus: fixed min. distance 5ft.
Flash: Magicube.
Flash range: 5-10ft.
Fill flash: Max. distance 10ft.
Accessories
Edit
Magicube extender: To avoid red-eye.
Write the first section of your page here.
Section heading
Edit
Write the second section of your page here.
Ad blocker interference detected!
Wikia is a free-to-use site that makes money from advertising. We have a modified experience for viewers using ad blockers

Wikia is not accessible if you've made further modifications. Remove the custom ad blocker rule(s) and the page will load as expected.