Perla is a 35mm film rangefinder camera made by Gamma, Italy and produced between c.1951-57.
Two base models were offered as the original Perla (Perla I) and the Perla II. Perla II is nearly the same as Perla I but with some cosmetic changes and lever winder. It is equipped with Schneider Xenar 50mm f2.8 (or f/3.5) in a Synchro-Compur shutter.
Some features of Perla I
Edit
Lens: Perla I models offered various lens/shutter combinations, as Koristka 55mm f3.5, Schneider Xenar 50mm f2.8, Ennagon 45mm f2.8, Steinheil Cassar 50mm f/3.5
Shutters: leaf shutters, Prontor, Synchro-Compur, Prontor-S and Prontor-SV
Speeds: 1-1/300 on Prontor
Finder: coupled viewfinder/rengefinder, yellow glass eyepiece
Film winder: knob
Self-timer
Cold-shoe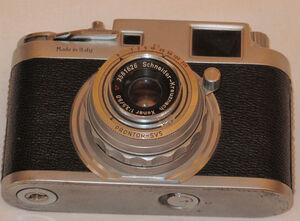 Ad blocker interference detected!
Wikia is a free-to-use site that makes money from advertising. We have a modified experience for viewers using ad blockers

Wikia is not accessible if you've made further modifications. Remove the custom ad blocker rule(s) and the page will load as expected.