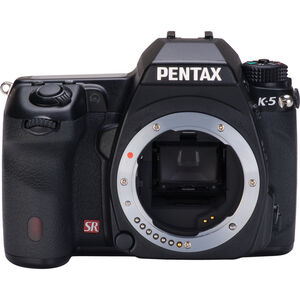 The Pentax K-5 is high-end semi-pro camera of Pentax As of its release in 2010 it was the best DSLR offered under $2000 rivaled only by the Nikon D7000.
The K-5 was essentially an update of the popular Pentax K-7 which improved the sensor chip, as well as the FPS and video capability.
Improvements over the K-7 were:
Edit
Larger 16.3 Mpix Sony-sourced CMOS Sensor
New SAFOX IX+ 11 point AF sensor
Dramatically improved ISO performance with a range from 80-51200 ISO. This is also the largest ISO range of any APS-C DSLR camera, and currently only beaten by three "Pro" cameras by Canon and Nikon (EOS 1D mk4, EOS 1D X and D3s)
7 frames per second
possibly the quietest shutter of any DSLR.
Ad blocker interference detected!
Wikia is a free-to-use site that makes money from advertising. We have a modified experience for viewers using ad blockers

Wikia is not accessible if you've made further modifications. Remove the custom ad blocker rule(s) and the page will load as expected.