White finish
by Paul Clayton
The Pentax Espio 115(M) is a 35mm compact zoom camera with autofocus made by Pentax, introduced in 1996[1]. In the US it was called the IQZoom 115 with a revised version taking the V suffix. An even later 115G model had a metal middle section with rubber grips. It was part of the Espio/IQZoom series.
Specifications
Edit
Film: Auto film speed setting with 35mm DX-coded cartridges from ISO 25-3200. Non DX set to ISO 25. Auto-loading, winding and rewinding.
Lens: Pentax electronic power zoom 38-115mm f/3.9-10.5. 7 elements in 6 groups.
Focusing system: Pentax phase-matching five-point autofocus, from 0.65m-infinity, with focus lock. Focus aid illuminator in low light.
Shutter: Programmed AE, 1/300-2 seconds. Bulb from 1/2-5 seconds.
Flash: Built-in, with red-eye reduction. 9.4m range at ISO 400. 5 second recycling time.
Tripod slot.
Power source: 1x CR2 lithium battery.
Size and weight: 111x61x40.5mm. 215g without battery.
Optional extras: remote control.
Also available with a date function.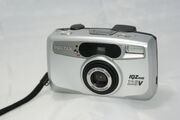 Film: Auto film speed setting with 35mm DX-coded film with ISO rating at 100 and 400. Non-DX coded films are set at 100 ISO.
Lens: Pentax electronic power zoom 38-115mm f/4.3-12.2. 5 elements in 5 groups.
Focusing system: Pentax infrared active autofocusing with focus lock. Range: 0.8m (2.6ft)- infinity, maximum magnification: approx. 0.17X. Infinity landscape-mode (focus is fixed to infinity)
Shutter: Programmed AE electronic shutter with speed approx. 1/500-2 sec. Electromagnetic release.
Self-timer: LED lamp indication. Delay time approx. 10 sec. Cancellation after activation is possible.
Viewfinder: Actual image viewfinder 83% of field of view ratio, Magnification: 0.44X (38mm WIDE)-1.23X (115mm TELE), Autofocus frame, Picture frame, Close distance correction frame, Green lamp light on: possible to take picture, Green lamp blinking: subject too close and/or the flash is charging.
Flash: Built-in flash with red-eye reduction mode, Automatic flash emission in low-luminance, Flash On=Day-light Sync/Slow Shutter Speed Sync (up to 2 sec.), Flash OFF=Flash override. Range: 0.8-7.9m (38mm WIDE), 0.8-2.8m (115mm Tele) ISO 400 film used. Recycling time approx. 7 sec.
Power source: One 3V lithium battery CR123A or equivalent.
Size and weight: 120.5x70.5x46.3mm. 240g w/o battery.
Also available with date function.
References
Edit
↑ Copyright date on the manual
Ad blocker interference detected!
Wikia is a free-to-use site that makes money from advertising. We have a modified experience for viewers using ad blockers

Wikia is not accessible if you've made further modifications. Remove the custom ad blocker rule(s) and the page will load as expected.