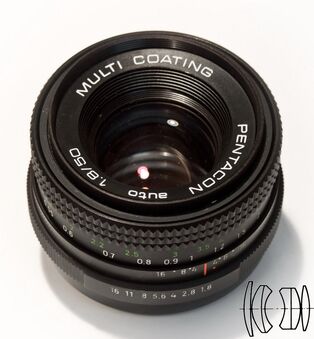 Added by Florian S200EXR
Construction: 6 elements, 4 groups
Angular field: 47°
Minimum focusing distance: 0.33m
Aperture action: automatic
Minimum aperture: 16
Filter size - 49mm screw-in type
Push-on diameter - 51mm
Mounth: M42x1 mm
This one (in photo) is made in Romania at "IOR" (Romanian Optical Works) factory, under licence.
Production period: 1971 to 1990
Ad blocker interference detected!
Wikia is a free-to-use site that makes money from advertising. We have a modified experience for viewers using ad blockers

Wikia is not accessible if you've made further modifications. Remove the custom ad blocker rule(s) and the page will load as expected.