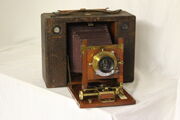 No. 2C Autographic Kodak Junior image by Terri Monahan  (Image rights)
No. 2C Autographic Kodak Junior

image by Terri Monahan  (Image rights)
No.2C Autographic Kodak Jr. is a large format film folding bed camera made by Eastman Kodak Co., Rochester, N.Y., USA and produced between 1916-27.
It uses Kodak No.A 130 [1] Autographic roll film cartridge for 7x12cm (2 7/8 x 4 7/8 inches) frames. The No.2C body was constructed of aluminum and covered in fine seal grain leather. The metal parts were finished in nickel or black enamel. Features included a folding black bellows design, adjustable focus with automatic focusing lock, reversible finder and two tripod sockets. Fitted with a meniscus achromatic lens and Kodak Ball Bearing Shutter. However, other optional lens and shutter combinations were avaliable:
Rapid Rectilinear lens with a Kodak ball bearing shutter
Kodak Anastigmat lens with a Kodak ball bearing shutter
Kodak Anastigmat lens with an Ilex Universal shutter
There are Special models of Autographic Jr. cameras with various lenses, shutters and/or improved features or superior finish. [2]
Kodak Autographic Junior camera models
Edit
Notes and references
Edit
↑ Kodak Roll films in brownie-camera
Ad blocker interference detected!
Wikia is a free-to-use site that makes money from advertising. We have a modified experience for viewers using ad blockers

Wikia is not accessible if you've made further modifications. Remove the custom ad blocker rule(s) and the page will load as expected.