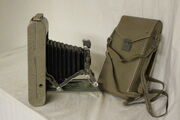 To outward appearances, the No. 1-A Kodak Pocket camera is the larger sibling of the Vest Pocket Kodak camera.
This camera takes 116 film, but some photographers report success in jury-rigging 120 film into the camera.
The camera offers automatic shutter speeds of 1/25 and 1/50 seconds.  It offers a standard B shutter mode, where the shutter stays open as long as the trigger is pressed.  But, like the Vest Pocket version, it also offers a T mode, where a single click of the trigger opens the shutter and locks it open, until a second press of the trigger which closes it.
The camera opens via a spring lever, which when pushed up opens the door to the camera inside. A knob at the front of the camera then allows it to be pulled forward on tracks. There it then can be set to its focus.
Aperture can be adjusted from f/6.3 to 45. A manual focus adjustment offers distances between 6 and 100 feet.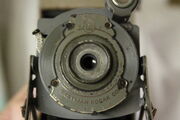 The "A" in 1-A indicates that this is the "Autographic" mode.  A sliding door on the back of the camera allows the user to physically access the back of the roll of film inside the camera.  This allows the photographer to use a stylus-like-tool, and essentially scratch a line or two of text onto the back of the film.  Once developed, this text appears on the film as a result of the scratching.  Kodak manufactured a specific "A116" film, specifically prepared for autographic use.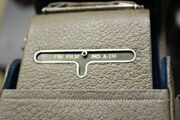 Ad blocker interference detected!
Wikia is a free-to-use site that makes money from advertising. We have a modified experience for viewers using ad blockers

Wikia is not accessible if you've made further modifications. Remove the custom ad blocker rule(s) and the page will load as expected.