The Nikon Coolpix L810 is a 26x superzoom point-and-shoot; it's easy to use and runs on AA batteries.
Key Features
Edit
26x optical zoom with wide-angle capability
Lens-shift VR image stabilization
"3" high-resolution LCD monitor
Powered by commonly available R6/AA-size batteries
720p HD movie recording with stereo sound
HDMI connectivity (HDMI cable available separately)
---
Get closer to your subjects with a powerful 26x optical zoom NIKKOR lens. The COOLPIX L810 is equipped with the easy auto mode and lens-shift VR, all your photos will be in super sharp focus. Whether shooting still images or movies, and even when operating the zoom while recording movies, Nikon's Lens-shift VR image stabilization compensates for camera shake to help obtain sharper results. The handgrip is designed to ensure a firm hold and help minimize camera shake. And there's also a side zoom control for stable handling. Easy auto mode lets you simply turn on the camera and start shooting, while leaving the settings to the camera. Also enhancing the shooting and playback experience is a 7.5-cm (3-in.) 921k-dot (approx.) high-resolution TFT LCD monitor. Employing Nikon's Clear colour display technology, the monitor remains highly visible and sharp indoors or out. The extremely wide viewing angle it offers is free of colour or contrast shifts, so you and those you are with can all fully enjoy the viewing experience.
Awesome
Kerrie on 06.07.2012
"I have purchased this camera and have taken over 400 photo's in under two weeks, I also have used the zoom and took a photo of the moon and you can see the craters on it and that's zoomed in to about 90-95% of what the zoom can do, I love the camera and would highly recommend it to anyone!"

Nikon COOLPIX L810
Reza on 06.10.2012
"I Bought This camera today and the second I touched it I loved it. It Was Equip with so much stuff. I LOVE THIS CAMERA!"
---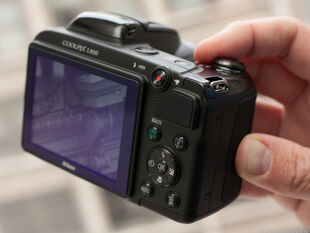 Ad blocker interference detected!
Wikia is a free-to-use site that makes money from advertising. We have a modified experience for viewers using ad blockers

Wikia is not accessible if you've made further modifications. Remove the custom ad blocker rule(s) and the page will load as expected.