In 1928 Dr.August Nagel, founder of Contessa and co-founder of of Zeiss Ikon, founded a new own camera factory in his hometown Stuttgart. It became famous for its small format camera Nagel-Pupille. In 1931 the company became Kodak's German branch Kodak AG. After that, the model range continued with the Kodak name. The company had developed the immediate predecessors of the Retina. 152 different camera models were made by Nagel and its successor Kodak AG.
127 film
Edit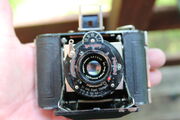 120 film
Edit
Film plates
Edit
Ad blocker interference detected!
Wikia is a free-to-use site that makes money from advertising. We have a modified experience for viewers using ad blockers

Wikia is not accessible if you've made further modifications. Remove the custom ad blocker rule(s) and the page will load as expected.