Momikon is a rangefinder camera made by MOM (Magyar Optikai Művek/Hungarian Optical Works) for 35mm film in Budapest. It has a focal plane shutter for 1/25; 1/50; 1/100; 1/200; 1/500 and Z(=B) and takes pictures in 24×32mm format. The lens is an Ymmar 3,5/50. The name was changed for the next model to Mometta in 1956.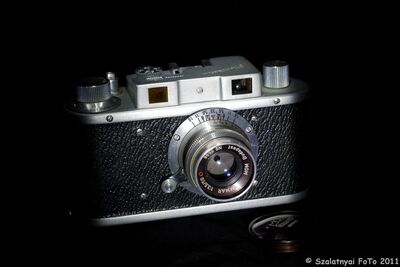 Momikon (short barrel)
.
.
.
.
.
.
.
.
.
.
.
Momikon (long barrel)

.
.
.
Ad blocker interference detected!
Wikia is a free-to-use site that makes money from advertising. We have a modified experience for viewers using ad blockers

Wikia is not accessible if you've made further modifications. Remove the custom ad blocker rule(s) and the page will load as expected.