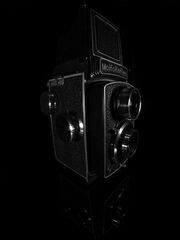 The Molforeflex is a Japanese 6×6 TLR, certainly made by Yashica. It has Yashimar 80/3.5 lenses and a Copal shutter (B, 10–200). It is said that 1,000 examples were ordered by the Swedish importer Molander & Son AB but only about 400 were made.[1]
↑ McKeown, p. 1029. See also the LP Foto auction catalogues and Molander's company profile.
Bibliography
Edit
The Molforeflex is not listed in Sugiyama.
In Swedish:
Ad blocker interference detected!
Wikia is a free-to-use site that makes money from advertising. We have a modified experience for viewers using ad blockers

Wikia is not accessible if you've made further modifications. Remove the custom ad blocker rule(s) and the page will load as expected.