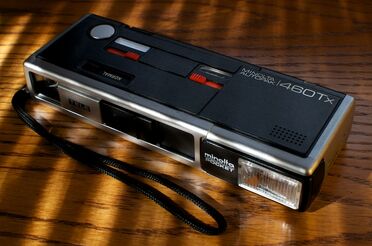 The Minolta Pocket Autopak 460T is a sophisticated little viewfinder camera for the popular type No. 110 16mm film cassettes. It was launched in 1979 by Minolta. The camera has two lenses, one 1:4.7/43mm tele lens and one 1:3.5/26m normal lens which can be used alternately. The built-in electronic flash is shifted a little bit aside when switched on.
Ad blocker interference detected!
Wikia is a free-to-use site that makes money from advertising. We have a modified experience for viewers using ad blockers

Wikia is not accessible if you've made further modifications. Remove the custom ad blocker rule(s) and the page will load as expected.