Levi, Joseph
Edit
Company Name
Edit
| | | |
| --- | --- | --- |
| J. Levi & Co. | 1861 - | |
| Joseph Levi | 1858 - 1861 | |
Company Address
Edit
| | | |
| --- | --- | --- |
| 97 Hatton Gdn. London | 1895 - | |
| 40 Furnival St. London | Before 1888 - 1895 | |
| 2 Dyer's Bldgs. London | Before 1888 - 1895 | |
| 40 Castle St. London | 1858 - | |
Established in 1858, merged into Houghtons Ltd in 1904. Patents issued to Levi & Co. were in the name of M.L. Isaacs, L.M. Isaacs and F.M. Isaacs. At the time of the Houghton merger the firm were major wholesalers especially for goods sold under their own brand names of Klito, Mascot and Leviathan.
A note in the 1892 BJP suggests that M.L. Isaacs had been running the company since 1876 and that Joseph Levi had recently died, that would also tie-in with a note from the same year concerning the firm of S.J. Levi.
Meyer Lewis Isaacs (d.1907). A photograph of L.M. Isaacs is contained in the Photographic Dealer for June 1902.
References:
Edit
BJP 15/4/1892. p. 256. BJA, 1908, p. 556. Phot. Dealer Jun/1902, p. 147.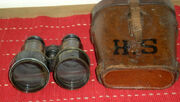 Ad blocker interference detected!
Wikia is a free-to-use site that makes money from advertising. We have a modified experience for viewers using ad blockers

Wikia is not accessible if you've made further modifications. Remove the custom ad blocker rule(s) and the page will load as expected.