Ad blocker interference detected!
Wikia is a free-to-use site that makes money from advertising. We have a modified experience for viewers using ad blockers

Wikia is not accessible if you've made further modifications. Remove the custom ad blocker rule(s) and the page will load as expected.
Leningrad Light Meters are a series of light meters made by Vibrator factory in Leningrad, former USSR and produced between c.1950-84.
Noticeably there is missing model numbers 3, 5, 9 in the Leningrad line.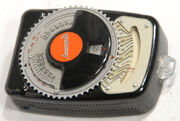 Leningrad 1 (original
Edit
Selenium cell
Produced between 1954-59
Looks like Metrawatt products, in particular the Horvex
Body: bakelite
Scale for film speeds: 11-700 GOST
Scale for Shutter speeds: 60-1/1000
Scale for Diaphragm: f/1-f/22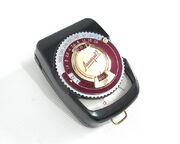 Leningrad 2
Edit
Introduced in 1959
Selenium cell
Body: bakelite
Scale for film speeds: 4-250 GOST
Scale for Shutter speeds: 15-1/1000
Scale for Diaphragm: f/1.4-f/22
Leningrad 4
Edit
Introduced c.1968
A Gossen Luna-Pro, but the big difference is that the Luna-Pro is CdS
Specifications of Leningrad 4
Edit
Photoelectric selenium cell light meter
Engraving on the back cover: 1011/4, СДЕЛАНО В СССР ( SDELANO V SSSR = MADE IN USSR) and serial no.
Leningrad 4 is written in Latin, this one is an export model. (Ленинград = Leningrad
Calibrated in ASA and DIN on the export model, or Gost and DIN
Aperture range: f/1.4 - f/22, shutter speeds 15-1/1000
Film speeds range: 4-1000 gost, 6-30 DIN, 3-800 ASA
CINE scale and an auxillary scale
A white opak glass is provided for use as an incident light meter
On the back side of the meter, there is an adjustment screw for zeroing the meter scale Strap lug
Body: plastic; Weight:
Basic operating instructions: Set film speed, transfer meter reading to dial, read matching f-stop and shutter speeds and transfer them to the camera
Attention: Selenium cells have a finate life always close the case when not in use to protect the cell
There are various coloured versions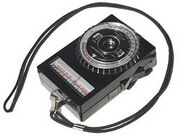 Leningrad 6
Edit
CdS cell
Introduced c.1970
Exact mirror bring
Body: plastic
Scale for film speeds: 4-2000 GOST (6-33 DIN)
Scale for Shutter speeds: 2 hours -1/2000 s
Scale for speeds of movie: 8-64 frame/sec
Scale for Diaphragm: f/1.4-f/45
Battery check button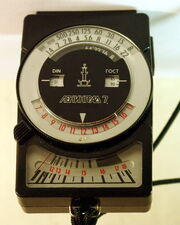 Leningrad 7
Edit
Selenium cell
Introduced c.1984
The first update of the Leningrad 6
Body: plastic
Scale for film speeds: 2.8-1400 GOST (6-33 DIN)
Scale for Shutter speeds: 30-1/2000
Scale for speeds of movie: 8-64 frame/sec
Scale for Diaphragm: f/1.4-f/22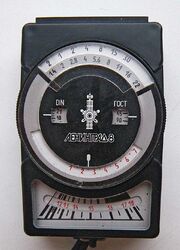 Leningrad 8
Edit
Introduced c.1983
Selenium cell
A slight refinement of the Leningrad 7
Body: plastic
Scale for film speeds: 2.8-1400 GOST (6-33 DIN)
Scale for Shutter speeds: 30-1/2000
Scale for speeds of movie: 8-64 frame/sec
Scale for Diaphragm: f/1.4-f/22
Leningrad 10
Edit
Introduced: c.?
Modified Leningrad 4
Selenium cell
Body:plastic
Scale for film speeds: 4-1000 GOST (6-33 DIN)
Scale for Shutter speeds: 24-1/2000
Scale for Diaphragm: f/1.4-f/22
Meter has rotatable head with selenium element and some attachment to measure different ranges of light