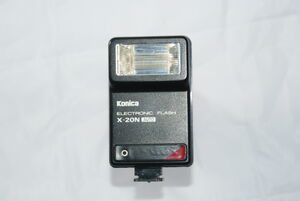 The Konica X-20N Auto flash made by Konishiroku has both auto and manual operation with a hot shoe and optional PC cord connection. Auto, Manual, on/flash off selector switch and a ready lamp/test button on back.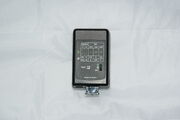 ==
Specifications:
==
ISO 100:
for meters 20
for feet 66
ISO 400:
for Meters 40
for feet 132

Automatic operation: 1~5m (4~17ft.)
ISO 100-f/4
ISO 200-f/5.6
ISO 400-f/8

ISO 100:
8m, 26ft.-f/2.8
10m, 34ft.-f/2
ISO 200:
8m, 26ft. -f/4
10m, 34ft. -2.8
ISO 400
8m, 26ft. -f/5.6
10m, 34ft. -f/4 

Power source: Two 1.5V AA batteries
Flash duration: sec.
Automatic: 1/30,000-1/1,500
Manual: 1/1,500

Recycling time: 10sec. with alkaline batteries
Number of flashes: 130 with fresh batteries
Dimensions: 40 X 53 X 92mm (1-3/8 X 2 X 3-5/8in.)
Weight (without batteries): 115g (4oz.)
Accessories:Edit
Write the first section of your page here.
Section heading
Edit
Write the second section of your page here.
Ad blocker interference detected!
Wikia is a free-to-use site that makes money from advertising. We have a modified experience for viewers using ad blockers

Wikia is not accessible if you've made further modifications. Remove the custom ad blocker rule(s) and the page will load as expected.