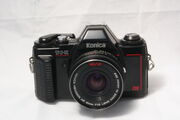 Last Konica SLR, already built by
Cosina
a third-party supplier, not in the Konica factory.
First SLR to use a body completely cast of plastic, and first camera to use the then new DX encoding for film sensitivity.
Fully mechanical, basic SLR. CdS TTL light meter. Shutter-priority auto-exposure. Shutter speeds 1/8s to 1/1000s and B. Konica AR bayonet. Battery only needed for light meter, AA or AAA alkaline, depening on model.
Ad blocker interference detected!
Wikia is a free-to-use site that makes money from advertising. We have a modified experience for viewers using ad blockers

Wikia is not accessible if you've made further modifications. Remove the custom ad blocker rule(s) and the page will load as expected.