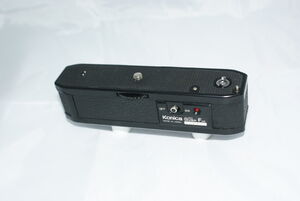 The Konica Auto Winder F, used in conjunction with the Konica FC-1 or Konica FP-1, makes possible auto-loading and continuous shooting. The Auto Winder has an On/Off switch and can be turned off for manual film advance then turned back on when auto winder function is required.
Specifications:Edit
Film advance speed: 1.5 frames per second (at shutter speed of 1/125)
Film rewind: Rewind is manual using the camera's rewind crank lever. Auto winder must be off and release button on bottom of auto winder is depressed.
Shutter speeds/auto winder compatibility: Including B (bulb), all shutter speeds are possible. (however B is a single shot frame without link up to the AE system).
Advance indicator: An LED lamp, located adjacent to the winders on/off switch, will illuminate when film is advancing and remains lit when the film roll is completely shot.
Auto-loading: Started by turning the Auto Winder's power switch ON.
Power source: Four AA alkaline batteries.
Battery life: Over 40-36exp. rolls at normal temperature.
Fastening: Attaches to bottom of camera via tripod socket, guide pin alignment at one end.
Contacts: A two pin terminal receives prompt from camera.
Drive: A spring loaded drive coupling connects to the camera's mating driven coupling.
Dimensions: 141 X 35.5 X 36mm (5.6 X 1.4 X 1.4in.)
Weight: Without batteries; 185g (6.5oz.)
Tripod mount: Standard on bottom of winder.
Section heading
Edit
Write the second section of your page here.
Ad blocker interference detected!
Wikia is a free-to-use site that makes money from advertising. We have a modified experience for viewers using ad blockers

Wikia is not accessible if you've made further modifications. Remove the custom ad blocker rule(s) and the page will load as expected.