1973-77 Konica Auto S3
The Konica Auto S3 is a versatile 35mm, shutter priority, rangefinder camera produced from 1973 through 1977. The S3 has a fast (f/1.8) 38mm, six-element lens that has.a reputation for producing extremely sharp and detailed images. Heralded by many as the standout compact rangefinder of the 1970's; the Auto S3 provides amazingly high performance from a 6-Element, 4-Group lens acclaimed by Modern Photography as, "one of the best semi-wide angle optics of its speed we have ever tested". ALL apertures demonstrated center values between 64 to 82 lines per millimeter of resolution providing impressive Leica-class performance. The Auto S3 epitomizes Konica's advertising claim from the '50's that proudly proclaimed, "...the lens alone is worth the price". 
Popular and oft-repeated street lore held that Cosina origins provided the common basis for the Auto S3, Minolta Hi-Matic 7SII, Vivitar 35ES, Revue 400 SE and Prinz 35 ER. Fact is; the other cameras were only coming to market in 1977 and 1978 when the Auto S3 was already out of production. The Auto S3 was an upgrade of Konica's popular 1968 C35 that added the superb f1.8, 38mm lens from the 1966 Auto SE Electronic to an advanced flash system. What the Auto S3 shares with the Cosina cameras is the Copal leaf shutter.
Manufacturer: Konishiroku Photo Industry Co., Ltd., Tokyo, Japan
Produced: 1973-1977 (≈200,000 cameras produced over 5 year term)
Model: Auto S3 in export markets, C35 FD in Japan domestic market
Finish: Auto S3 and optional finish C35 FD = Black Anodized Aluminum, C35 FD (standard finish) = Bright Chrome
Focusing System: Coupled coincident image rangefinder with fixed brightlines and parallax compensation marks. Lens uses helicoid focusing
Lens: f1.8 38mm, 6 elements in 4 groups with 49 mm filter thread
Shutter: Copal automatic leaf shutter 1/8 to 1/500 + B and self timer. X-flash sync at all speeds
Shutter speed: 1/8-1/500 sec.
Shutter priority automatic exposure with exposure lock feature (unusual for compact RF class) activated by partially depressing the shutter release.
Aperture: f/1.8- 16
Metering system: CdS photocell mounted above the lens inside filter ring. Shutter priority auto exposure, ASA 25-800. Needle in viewfinder displays current aperture
Flash: Flash hot shoe and PC socket with balanced daylight/synchro exposure. Guide numbers 7 to 56
Display in viewfinder: aperture, over/under exposure
Battery: 1.35v PX675 mercury-type
Size: 112W x 80H x 60D mm, 410g
Retail price: ¥33,000 (1973), $199.95 in U.S., £82.90 in Britain
Key accessories: Auto-Up 3, close-up device from 50 cm to 0.9 m (19.7" to 35.4"), X-20 Electronic Flash (MSRP $49.95)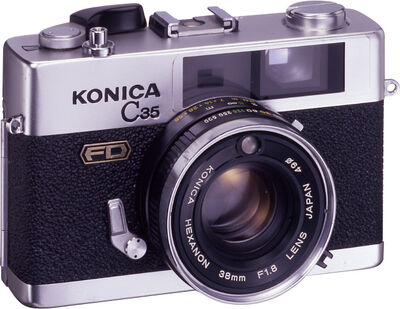 The Auto S3 was introduced to export markets in 1973 finished in a sleek black anodized aluminum chassis coupled with classic, clean styling that made it distinctive among compact RF peers. The Japanese Domestic Market model was badged as C35 FD, produced primarily in silver anodized body with rare black anodized C35 FD offered an an upgrade variant.
The sophisticated daylight Synchro/Flash system of the Auto S3 (the most advanced ever fitted in a compact RF), perfectly balanced flash and ambient lighting. The capabilities of the Auto S3's unique daylight Synchro/Flash System could also be exploited to provide metered manual control.  Inserting a flash in the hot shoe activates a green synchro flash indicator bar in the viewfinder window tied to focus distance. After focus; turning the shutter speed ring until the primary meter needle in the viewfinder aligns with the green synchro flash indicator bar yields perfectly balanced, shadow-free lighting for flash photography. This advanced feature provides unprecedented versatility for fill-flash photography. Flash sync at all speeds, 1/8 to 1/500 + B.
The Auto S3 was retired from production as Konica celebrated the 100th anniversary of its founding as Konishiya Rokubeiten in 1873 by Rokusaburo Sugiura IV. The company changed names several times through the years, merged with Minolta in 2003 and ultimately withdrew from camera and photo finishing businesses in 2006 with recognition that the film market was "shrinking astonishingly by the surge of the worldwide digitization". Konica Minolta Holdings divested its SLR camera business to Sony where the Minolta "A" lens mount continues as a basic building block of Sony's "Alpha" digital SLR systems.
Ad blocker interference detected!
Wikia is a free-to-use site that makes money from advertising. We have a modified experience for viewers using ad blockers

Wikia is not accessible if you've made further modifications. Remove the custom ad blocker rule(s) and the page will load as expected.