Ad blocker interference detected!
Wikia is a free-to-use site that makes money from advertising. We have a modified experience for viewers using ad blockers

Wikia is not accessible if you've made further modifications. Remove the custom ad blocker rule(s) and the page will load as expected.

Kodak's VR35-Series was a line of 35mm point-and-shoot cameras, introduced in 1986, marking Kodak's return to making 35mm cameras after a 17 year gap. The range continued until 1993. They had varying degrees of sophistication, ranging from the basic fixed focus models, with one aperture, no built-in flash and manual wind, to models with motor drive, programmed auto exposure and autofocus. Manufacturing sites included Japan, Hong Kong, Thailand and Taiwan.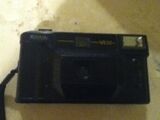 VR35 K400, fixed-focus
by mpclemens
Model
Introduced
Withdrawn
Features
VR35 K2
Basic fixed-focus with hot shoe for flash, manual wind
VR35 K2a
VR35 K4a
Manual wind, built-in flash, fixed focus, aperture selected by 3-position film speed
VR35 K5
Motor wind, fixed focus, pop-up flash
VR35 K6
VR35 K10
1986
1988
Autofocus, Motor drive, auto exposure, flash in flip-up lens cover
VR35 K12
1986
1989
f2.8 Ektar fixed focus lens, with option to manually choose forced flash (fill flash). Snap on tele and wide angle aux lenses available. Can use common 9v battery in addition to special designated battery.
Medalist VR35 K14
1986
1989
f2.8 Ektar fixed focus lens, date back with option to choose manual forced flash (fill flash) and no flash. Snap on tele and wide angle aux lenses available. Can use common 9v battery in addition to special designated battery.
VR35 K40
1986
1993
fixed focus, motorised, auto-exposure, DX coding, pop-up flash.
Also known as 35 MD and similar to the S-Series S350.
VR35 K60
1987
1988
VR35 K80
1987
1993
Auto focus, auto film speed, f3.8 ektanar lens, built in flash
VR35 K300
1987
1990
VR35 K400
1987
1990
fixed-focus, manual wind
VR35 K500
1987
1990