Kodak Six-20 Brownie, Models C, D, E, and F
Talk

0
Share
Ad blocker interference detected!
Wikia is a free-to-use site that makes money from advertising. We have a modified experience for viewers using ad blockers

Wikia is not accessible if you've made further modifications. Remove the custom ad blocker rule(s) and the page will load as expected.
A series of 620 film box cameras made of sheet metal, by Kodak Ltd. in England. There were three generations, from 1937-41, 1946-53 and - renamed "Brownie Six-20" - 1953-57[1].
Factory initially named Kodak Ltd., London which is then changed its name to the UK arm of Eastman Kodak Co.. Since 1889 the factory was one of the Eastman Photographic Materials Company. In 1891 he opened a factory in Harrow near London, where he produced cameras, photographic paper and other accessories. Harrow Branch was closed due to changes in production profile, and the building was demolished in 2007.
Specification of Kodak Six-20 Brownie D
Manufacturer - Kodak Ltd., Harrow, England
Date of manufacture - 1946-1953 (first version)
Frame size: 60x90, roll type film 620 (narrow spool)
Shutter leaf: B, 1/50s
Lenses - Meniscus f/11 100mm, portrait.
Aperture - 2 settings
Model D
by lovelykatherine
Model F
by lovelykatherine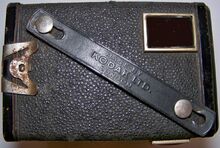 References
Edit