Ad blocker interference detected!
Wikia is a free-to-use site that makes money from advertising. We have a modified experience for viewers using ad blockers

Wikia is not accessible if you've made further modifications. Remove the custom ad blocker rule(s) and the page will load as expected.
Kodak Retinette 1A type 035 early model w.Vero shutter image by Martin Taylor (Image rights)
The Kodak Retinette 1A is a 35mm film viewfinder camera made by Kodak AG and produced between 1959-66. It was a development in the series of Retinettes.
The Retinette IA was produced in several versions:
Type 035 (early with VERO)
Edit
Production time: February 1959 to October 1959
Produced: Serial number ranges: 50000 to 125719, 131812 to 135336
Lens: Reomar f:3.5/50mm
Shutter: Vero
Cold-shoe
Type 035 (late with PRONTO)
Edit
Production time: October 1959 to February 1961
Produced: Serial number ranges: 126677 to 130479, 136165 to 255166
Lens: Schneider-Kreuznach Reomar f:3.5/50mm
Shutter: Pronto
Cold-shoe
Type 035/7 (French model)
Edit
Production time: 1959 to 1961
Produced: Identified Serial number range: 50270 to 60995, 650405 to 662983
Lens: KODAK ANASTIGMAT F:2.8 ANGENIEUX 50mm
Shutter: Kodak Angen. OBK2
Type 042
Edit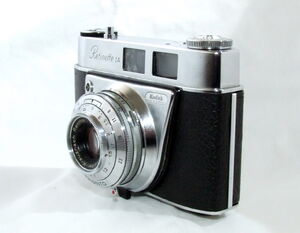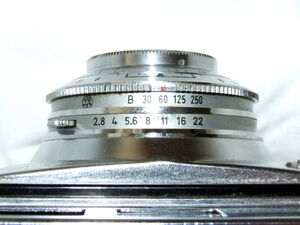 Production time: January 1961 to February 1963
Produced: Serial number ranges:50001 to 233146,EK 800001 to EK 829669
Specifications
Edit
Retinette IA is engraved with lowercases
Lens: Schneider-Kreuznach Reomar, three elements, 45mmf/2.8

Aperture: up to f/22, setting ring and scale on the lens-shutter barrel
Focus range: 1-10m +inf.

Focusing: front element focusing, calibrated scale with zone stops (1-2-3 dots from portrait to landscape), w/DOF scale
Shutter: Pronto leaf shutter, speeds: 1/30-1/250 +B, setting: scale and ring on the lens-shutter barrel
Cocking lever: rapid, also winds the film, double exposure prevention, on the right of the bottom plate
Shutter release: on the top plate, left, w/ cable release socket
Viewfinder: bright frame, w/ parallax correction frames
Frame counter: decreasing type, manual setting, window on right of the top plate
Re-wind knob: on the top plate, left
Re-wind release: a small knob, beside the cocking lever
Memory dial: coupled with the re-vind knob
Flash PC socket: on the front plate, all speeds with electronic flash, only 1/30 for bulbs
Self timer: lever on the lens-shutter barrel
Back cover: hinged, small opening buton on the bottom plate, left
Cold-shoe
Tripod screw 1/4"
Body: die cast aluminum alloy; Weight:
Serial no. on the top plate
Retinette IA type 044 early model image by Shuggy™ (Image rights)
Kodak Retinette IA type 044 late model c.1966 image by Süleyman Demir (Image rights)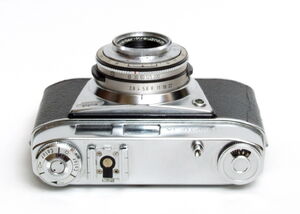 Produced: January 1963 - 1966
Produced: Serial number ranges below:
243638 to 419999 - P250S shutter
EK 830209 to EK 864999 - P250S shutter
420000 to 547925 - P300S shutter
EK 865000 to EK 870997 - P300S shutter
Lens: Schneider-Kreuznach Reomar 1:2.8/45mm
Shutter: Prontor 250S (1/30-1/250 +B), then later Prontor 300S with speeds up to 1/300
Both with hot shoe
Retinette IA is engraved in uppercases
Serial no: on the hot-shoe
Focusing: front element focusing, gues the distance, also there are symbols for portrait, group and landscape on distance scale, w/DOF scale
In English:
In German:
In French :